Collections
"We don't collect objects, we collect stories."
The collection in Memorial Hall Museum differs from those of most other museums. All objects are collected strictly for their artistic and historic merit, with no regard for their monetary values or physical conditions. This was the intent of the museum's founder, George Sheldon. It has been followed ever since.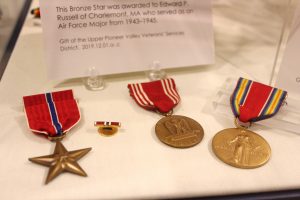 As a result, the collection is extremely unique and features items found nowhere else. Many have obvious historic significance. Some are utterly commonplace and offer an understanding of a time, place, or person that might otherwise have been lost to history. And a few are just plain bizarre.
The collection, spread between Memorial Hall Museum and the PVMA Library, numbers over 50,000 objects, photographs, documents, and manuscripts. It spans pre-contact Indigenous artifacts through contemporary items. Each was made, used, and/or owned locally. Individually, each tells a unique story. Together, they tell the story of the area and its people across time.
Searching the Collection
The searchable collections database is available here:
Digital Catalog
Highlights of the collection, as well as related educational resources, are available on the American Centuries website.
American Centuries Website

To request in-person research access, please contact the curator of photographs and objects or the librarian for documents and manuscripts.
Object Donations
Memorial Hall Museum is actively collecting the art, history, and culture of the northern Pioneer Valley. If you are interested in donating an item, or items, to the collection, please contact our curator.
PVMA Library
The Library houses PVMA's extensive collection of three centuries of reading fare—literature, sermons, history, travel, biography, periodicals, and works on agriculture, animal husbandry, and domestic economy—many of which exist in rare imprints. This includes:
Over 600 account books and daybooks of local origin, ranging in date from the late 17th to the mid-20th century. Kept by merchants, professionals, farmers, craftsmen, and business firms, these ledgers yield valuable material for studies in economic and local history.
Finding aids to the most extensive collections of family papers are available here:
PVMA Library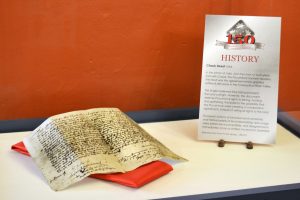 Sermons documenting the work of various local ministers, occasionally in considerable depth. Records of churches in Deer- field and surrounding towns have also been preserved.
More than 200 diaries which provide an intimate and often detailed view of life in an earlier day. Represented are the writings of 90 men, women, and children who recorded their personal and family concerns, and their activities as farmers, politicians, artists, physicians, ministers, craftsmen, and travelers.
Records of voluntary societies in Deerfield and surrounding towns. An extensive miscellany of 17th- to 19th-century Deerfield town records and documents from other western Massachusetts towns provide additional research opportunities.
Researching in the Library
The PVMA library, part of the Memorial Libraries (the PVMA library and Historic Deerfield library) is open year-round, Tuesday through Friday 9 am–12pm and 1–5 pm; closed Mondays and holidays. From April through November 2023, the library will also be open the first Saturday of the month, 9 am-12 pm, 1-5 pm.
For general inquiries, call 413-775-7125 or email library@historic-deerfield.org.
Library Donations
The PVMA is actively collecting the written record of the northern Pioneer Valley. If you are interested in donating an item, or items, to the library, please contact our librarian.
Education
To support the teaching of American history, the Deerfield Teachers' Center offers a rich and varied professional development program for K-12 teachers, Traveling History Kits for loan, field trips, and in-school History Labs.
Deerfield Teacher's Center
The programs at the Deerfield Teachers' Center use award-winning websites, with online educational materials, created in collaboration with classroom teachers— making our collection and educational resources accessible to educators nation-wide.
Deerfield Teacher's Center Resources
Memorial Hall Museum welcomes school groups to Deerfield, Massachusetts, with a number of adaptable age-appropriate, hands-on activities, available throughout the school year as well as during the summer.
Schedule a school group visit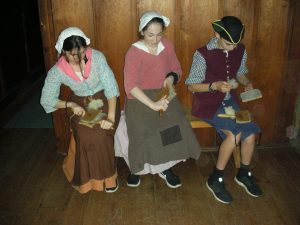 LOCATION
8 Memorial St. Deerfield, MA 01342
HOURS
May: Weekends 11:00-4:30
June through October: Tuesday – Sunday 11:00-4:30
November through April: By appointment only
ADMISSION
FREE in honor of PVMA's 150th anniversary!
PARKING
Free parking is available on Memorial Street as well as in the parking lot adjacent to the Memorial Libraries.
We were driving through Old Deerfield enjoying a beautiful fall day and saw the Museum was open - with free admission no less. So of course we pulled over to visit and three (3!) hours later we walked out having learned so much about the history of this town. Fascinating collection, welcoming staff, and we liked the way they have rephrased some of the displays to put the raid in context of what was happening at the time. Kudos, Museum! Five stars and four thumbs up.
I loved it. So much to see from quilts to dino fossils. So much history pre- sented in an interesting way. The exhibits are lovely. The staff is lovely. The memorial room really captured my imagination. 5 stars
I spent two hours there.. that should say it all.